Technature Wins Sensory Award In-Cosmetics Paris 2016
---
Technature Wins Sensory Award In-Cosmetics Paris 2016
---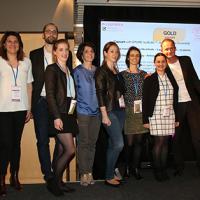 In-cosmetics is the leading global event for personal care ingredients. The exhibition brings together over 700 exhibitors of ingredients, fragrances, lab equipment, testing and regulatory solutions with over 9,000 cosmetic manufacturers worldwide. More than 500 exhibitors and visitors gathered for the award ceremony hosted at Restaurant Dormant in Paris, following day two of in-cosmetics 2016.
Brand new for 2016, the Sensory Award has been created for the launch of our new Sensory Bar! This award celebrated the most innovative developments in sensory and texture.
Sensory Award Winners:
GOLD: Capsum with Epure Isobulle
SILVER: Nikkol Group with Meguri Series
BRONZE: Technature with Leaf Mask
We are so proud of Technature and soon we will release this bronze-award-winner product in our product category.
More detail about this event: http://www.in-cosmetics.com
Related Images
---
---