Mibelle Receives Certificate for Its Naturalistic Company Site
---
Mibelle Receives Certificate for Its Naturalistic Company Site
---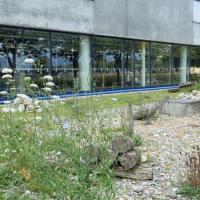 At the end of September Swiss environmental organisation "Stiftung Natur & Wirtschaft" awarded Mibelle AG its quality mark for its nature-friendly company site. It is a Migros Cooperative stipulation that all Migros industries should be certified by 2020. This target is enshrined in Mibelle AG's sustainability programme.
Specific design principles and maintenance routines on nature-friendly company sites ensure the creation of habitats, food supplies and protection for plants and animals. The most important principles are use of native plants and materials appropriate to the site, and a prohibition on the use of artificial fertilizers and pesticides. The site is allowed to grow wild to a certain extent, wild flower meadows are mowed infrequently and only later in the year.
The former lawned area outside Mibelle AG's administrative building has recently been adorned with native perennials, shrubs and small structures. Other areas have also been redesigned and various roofs have been extensively greened. Mibelle AG's efforts to achieve a greater diversity of species have now been rewarded with the Stiftung Natur & Wirtschaft's quality mark for the naturalistic design of the company's site in Buchs.
The redesign was carried out in close cooperation with the local gardener and the Stiftung Natur & Umwelt. Thomas Aliverti, Head of Infra, Energy and Construction, is pleased that it has been possible to make a visible impact already at relatively low cost and Mibelle AG has consequently been able to make an active contribution to protecting biodiversity.
Related Images
---
---