Micro Powders Announces The Launching of New Natural Products
---
Micro Powders Announces The Launching of New Natural Products
---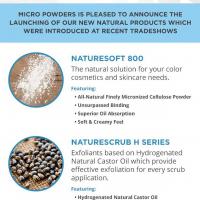 Micro Powders is pleased to announce the launching of their new products. They are Naturesoft 800 and Naturescrub H Series.
Naturesoft 800 is the natural solution for the color cosmetics and skincare needs. Featuring:
It is the natural, cost-effective material a biodegradable powder with superior binding properties vs zinc stearate and nylon-12. It imparts a soft feel to pressed and loose powder formulations.
Naturescrub H Series is the exfoliants based on Hydrogenated Natural Castor Oil which provide effective exfoliant for every scrub application. Featuring:
Hydrogenated Natural Castor Oil

Bright White Color

Non-Irritating

Economical

Available in 3 Particle Sizes
Micro Powders is also introducing a line of melting waxes for use as rheological modifiers and structural additives. Micropoly 4039 and Micropoly 4049 arepolyethylene in powder form.
Related Images
---
---