Swiss Ice WINE 'Face Lift Freeze Cream' promoted as Natural Botox Alternative
---
Swiss Ice WINE 'Face Lift Freeze Cream' promoted as Natural Botox Alternative
---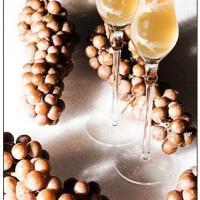 Natural alternative to Botox made from frozen WINE: 'Face lift freeze cream' produced from grapes smoothes out wrinkles without injections or surgery
'Face lift freeze cream' is being promoted as a natural alternative to Botox
It relies on an ingredient taken from Swiss ice wine made from frozen grapes
Cream is said to smooth out wrinkles by forming a mask that pulls the skin tight
Ingredients taken from Swiss ice wine created from frozen grapes are being promoted as a natural alternative to Botox.
A new 'face lift freeze cream' is said to smooth out wrinkles without resorting to injections or surgery.
Rather than turning back the clock and rejuvenating cells, the cream is more of an invisible mask, pulling the skin tight.
The cream relies on an active ingredient called Vin-upLift, which is derived from premium Swiss Ice Wine produced from naturally frozen ripe grapes.
The grapes are harvested from Swiss vineyards, picked by hand after the first snows of winter which leave the grapes frozen on the vine.
The grapes are fermented and the resulting wine is rich in sugars and polysaccharides, which are said to have an instant lifting and long-lasting moisturising effect on the skin.
The technology was developed by the Swiss company, Mibelle Biochemistry, which is a subsidiary of the country's largest manufacturer of cosmetics.
And their parent company is Migros, which is Switzerland's largest retailer with over 94,000 employees.
Lifting creams have been available for some time and they tend to carry a designer price tag, for instance Estee Lauder Resilience Lift Face & Neck Cream costs £65.
Mibelle is supplying Vin-UpLift to be used in new Optimum PhytoFreeze cream, which has just gone on sale in Superdrug at a more purse friendly £14.99.
Lifting creams are becoming popular because the effect lasts for a matter of hours, unlike Botox which can create an odd mask-like appearance and unnatural expressions.
Celebrities who are reported to have moved away from injectable enhancement include Kylie Minogue, Gwyneth Paltrow and Cameron Diaz, preferring a more expressive look.
The Superdrug head of own brand, David Cooke, said: 'As the long term effects of Botox and other injectables are still uncertain we're seeing more women than ever looking for products which give a freezing effect, giving an instantly youthful look, without any worry.
'Women are becoming more savvy and now understand they don't need to look for reassurance in a hefty price tag, they can look at the technology behind products such as this PhytoFreeze and then actually see an instant result.'
The Optimum PhytoFreeze Face & Neck Cream is £14.99 and the PhytoFreeze Eye Cream just £12.99.
As well as Vin-UpLift, the two products contain Acetyl Dipeptide, which is claimed to counter sagging skin. They also contain Vitamin E and Pro-Vitamin B5.
Shea Butter is used in the face and neck cream and olive oil in the eye product to smooth and moisturise the skin.
If you interest to this product, please do not hesitate to contact or chat us. Our sales will gladly serve you.

Read more: http://www.dailymail.co.uk/news/article-4088830/Natural-alternative-Botox-frozen-WINE-Face-lift-freeze-cream-produced-grapes-smoothes-wrinkles-without-injections-surgery.html#ixzz4VJw5WwxE
Follow us: @MailOnline on Twitter | DailyMail on Facebook
Related Images
---
---